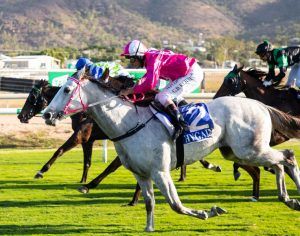 Rookie trainer Matthew McGuire is continuing to make his mark in the Townsville racing scene.
With the McGuire Racing cheer squad on hand, the young trainer landed his third Townsville winner when Pantone stormed home to win the last on Saturday.
"I've got a good core of owners and they're great people. A lot of them were there on the weekend and it was great to get a result for them," McGuire said.
"When we first got Pantone we thought he was a horse that would win one or two, but ever since he's had a spell he's just kept improving.
"It's easy to forget that he's six because he just keeps getting better and better like a three-year-old.
"He was the only winner to come from back in the field all day and not much else made ground in the race. I thought he was pretty impressive."
McGuire, 27, is part of the new generation of trainers coming through in the north and just two years of training has already built up a team of five horses in work.
Racing runs through his veins. His dad Pat was a gun western jockey and mum Michelle a leading trainer in their hometown of Richmond.
The family relocated to Townsville when Matthew and sister Phoebe hit high school age.
McGuire racing is very much a family affair. Pat no longer rides but has enjoyed considerable success in the training ranks with a small but select team.
And just for good measure, father and son have also had success training greyhounds in the city.
The workaholic Matthew hardly has time to catch his breath, but somehow is again playing A Grade cricket for his beloved Norths this year.
"As well as the horses, I'm training three dogs, I'm also working full time and playing cricket for North's. I'm pretty busy juggling it all but I love it and it's great fun."
Photo: Pantone rushes down the outside to win at Cluden park on Saturday with Graham Kliese in the saddle. Photo by Mike Mills Photography.
https://www.townsvilleturfclub.com.au/about-ttc/latest-news/rookie-trainer-matthew-mcguire-lands-third-townsville-winner/